Rubbish Removal Guildford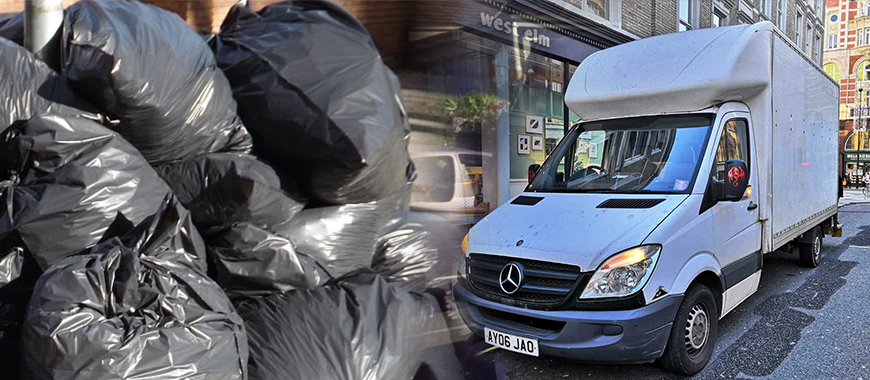 Based in Guildford, our company is dedicated to provide green and competent removal and collection of rubbish. You know how important it is to have all the information handy when you order a service with a cleaning company. After all, you trust the cleaners to enter your house or other premises and operate with your valuable stuff inside, so the first obligation of such a service is to be reliable and competent.
Our service is transparent and professional – we keep you informed about the prices and the periods at all times and your satisfaction is really important to us. The reason Guildforders are so fond of our service is that it is inexpensive, yet effective. Many a happy customers are the evidence that we are really proficient in rubbish removal. We value your surroundings and we keep our promises, this is why our business is thriving. We are professionals who love doing their job.
Where are we located? It really doesn't matter.
You can order our trusted rubbish removal service from every nook in Surrey. Our specialists can handle all kinds of rubbish cleaning jobs, for the citizens of Guildford and their businesses. Offering simple and handy solution to your rubbish problems we collect old fridges, building waste, tables, mirrors, sofas, old desks, garden waste – you name it! We are going to help you get rid of them for good.
Our team of specialists is perfectly trained to do the job. We pride ourselves in our friendly and competent cleaners. Just how pro are we? We have a license from the Environment Agency – which means that when we get rid of your junk, we do it in a lawful manner, which allows recycling. When it comes to preserving the natural wonders of Earth's beautiful nature we are extremely considerate. We understand the fact that we are responsible for the future of our planet.
Our working hours? Six days a week, we are available most of the time, between 7 AM and 8 PM. We work so much, so that we are able to provide our services at a time convenient to you. We strive to make things really elementary for you – that's one of our top priorities. Customer care comes first – our staff are extremely polite and diligent people, who are also experienced, well-prepared and pleasure to work with. It really is simple for you. We manage your waste with finesse.