Office Cleaning in Guildford
Are you in need of a competent, professional and cost-effective cleaning solution for your offices in the Guildford area? If you require an experienced company that respects the hygiene and safety of your business, then Jobell Cleaning Services is precisely the team you want. With years of experience in the cleaning industry, from commercial properties to residential homes, we have the skills to have your office looking sparkling in no time. To provide that professional atmosphere, a clean and attractive environment is a must. With our expert cleaning services, that's precisely what is provided.
Why use an Office Cleaning in Guildford?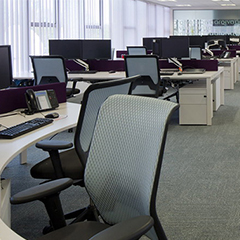 Why might you need to hire a cleaning service for your office? There are many reasons why you might want to invest in a cleaner workspace. Maybe your business has recently expanded, and you require professional support to keep everything spick and span. Or perhaps you've moved to new premises that need a little extra care to keep clean. An office cleaning service can ensure that, when you enter your workplace in the morning, it's fresh and renewed – ready and waiting for a new day of work. For increased morale and a happier workplace overall, a little bit of cleanliness can go a long way.
Our Guildford cleaning service provides a convenient and practical way to keep your offices looking perfect every day of the year, letting you get on with what's essential without worry about mess or hygiene. We're discrete, quick and aim never to disrupt your staff during our cleaning services, ensuring the best results with the minimum of fuss. If you're looking for a company that puts the needs of your business first, then we're the ideal solution.
What's included in an Office Cleaning in Guildford? What is included in a basic office cleaning?
At Jobell Cleaning, we deliver the full package for our office cleaning services. This includes the cleaning of general office areas, waste removal and disposal, tidying of communal areas and more. We also include cleaning all office bathrooms and kitchens in our remit, meaning you don't need to go anywhere else to achieve dazzling results. Whether your requirement is a twice-a-week cleaning service, or you're looking for a solution to support your business every day, Jobell Cleaning has the knowledge and cleaning expertise to achieve excellent results every single day.
In addition to our scheduled services, we also provide one-off cleaning jobs and solutions. If you've just moved into a new office that requires a deep clean, or you're moving your business at the end of your lease, our deep clean service ensures the property is left looking sparkling in next to no time. From revitalizing dirty and stained carpets to clearing out and cleaning kitchens and bathrooms, we're ready and waiting to transform your office from a run-down property to perfection.
Hire Jobell Cleaning Services today!
Want to work with the professionals when it comes to keeping your office sparkling? Get in touch with us at Jobell Cleaning today to discuss how we can support your offices and business in Guildford and surrounding areas.
Give us a call on 07949 825369, or use the contact form below for a free quote on Office Cleaning in Guildford
Phone number:
01483 399 298
Working Time:
Monday-Saturday: 09 AM – 08.00 PM. Sunday: Closed
REQUEST FOR CLEANING
Tags: cleaning services guildford | commercial cleaning services in guildford | school cleaning jobs near me | cleaning jobs in guildford | services in guildford and surrey | office cleaning in guildford | office cleaning guildford woking aldershot | guildford office cleaning services